Covid-19
We are still open for business and working safely. Please read our information and advice on ordering at this difficult time.
Our Bestseller of 2020
Our P503 rosette has retained the Bestseller crown for the second year running! We're not surprised though;  it's really not hard to understand why this classic rosette is so popular: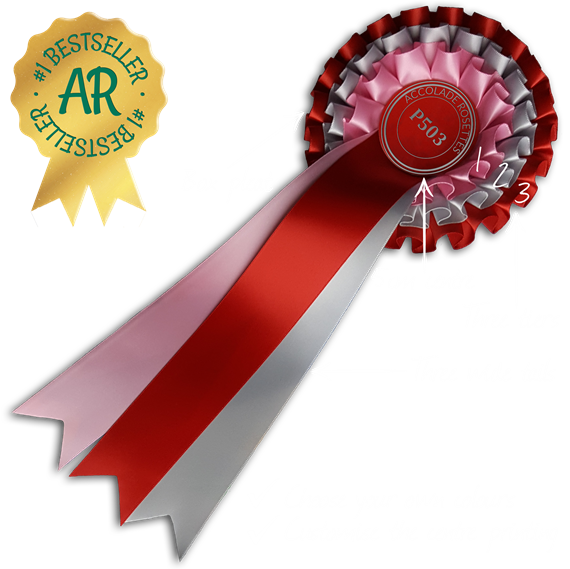 Are you struggling to decide which rosettes and sashes are right for your event or competition? If so then check out our new blog post to help you focus on what's important for you and your event...

New Website!
With fewer public events requiring rosettes and sashes we decided to spend our quiet 2020 wisely and built this lovely brand new website; we really hope you love the results as much as we do! We wrote a blog post to introduce the new arrangement and features.
Spotlight On
We'd like to shine a light on one of our Premium Rosettes that demands R-E-S-P-E-C-T!
Browse Our Standard Rosettes
About Us
Accolade Rosettes is a family business. We have been designing and manufacturing high quality rosettes, sashes and lapel badges since 2006 and over this period we have built up a very loyal and diverse client base that spans the length and breadth of the UK and into Europe.
Our rosettes and sashes are handmade with great care and attention to detail. We understand that the rosettes and sashes you present as prizes or gifts impact greatly on the image of your club, organisation or event and for this reason, although we try to keep our prices competitive the quality of our products is our main concern – we never send out anything that we wouldn't be proud of saying "That's one of ours"!
If you'd like to find out more about our story and why we think you should  feel confident in ordering from us please check out our About Us page or read some of the lovely comments made by our existing customers.