Rosette Enhancements
Any of our Standard or Premium rosettes can be further enhanced by adding some (or all!) of these extra features.
Tail Printing
Tails can be printed with your own choice of text in metallic gold, silver or rose gold foil.
Unlike centres we print ribbon digitally which allows more flexibility in the style and size of the text and also allows the inclusion of motifs without the need for a Personal Printing Plate.
The charges applied are as follows:
Set-up charge (first tail of each setting)

£0.50

Thereafter (same text) per tail:

2-10 tails

£0.25

11-25 tails

£0.20

26+ tails

£0.15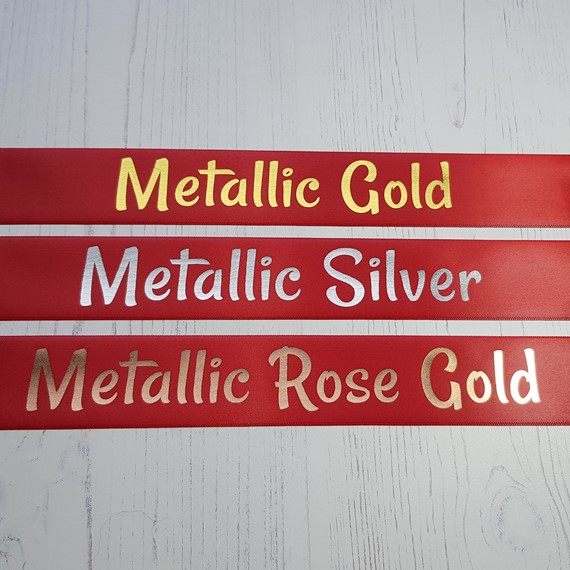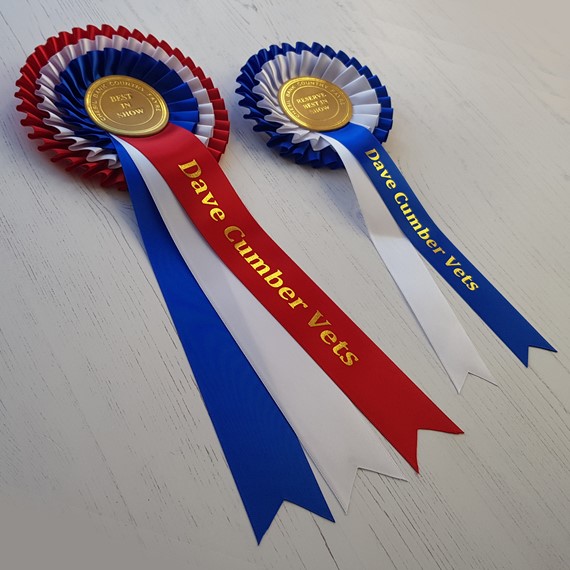 Fancy Ribbon
Rosettes can be enhanced by replacing some or all of the standard satin ribbon with special ribbons; examples can be seen on our gallery page.
The price is dependent on the type of ribbon, the style of the rosette and where on the rosettes the ribbon is to be used. Prices are shown on each of our rosette pages in the Rosette Enhancements tab or you can contact us.
Molten Ribbon
This nylon ribbon has high shine; the almost liquid effect is very eye catching.

Available in gold, silver and copper.
Metallic Lamé Ribbon
A sparkly top-quality ribbon that really adds to the structure of rosettes.

Available in gold, silver, bronze and pearl.
Metallic-edged Ribbon
Satin ribbon with a metallic gold or silver line printed along each edge.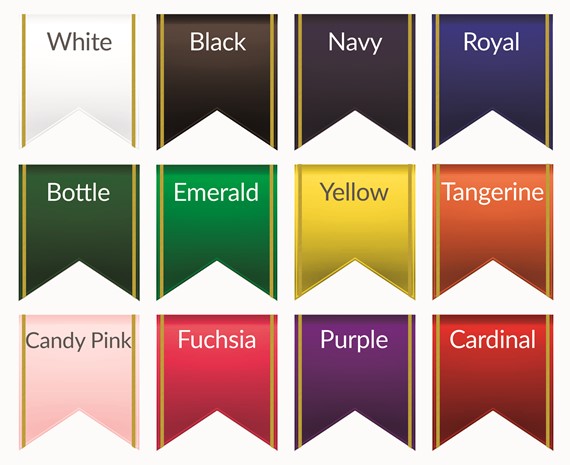 Available in the above colours with a gold edge and also royal with a silver edge.
Tartan Ribbon
Beautiful woven tartan ribbon; match or contrast with satin shades to great effect.

Available in Royal Stewart, Dress Stewart, Buchanan and Douglas.
Star Points and Leaves
Folded ribbon "star points" and loops of ribbon termed "leaves" can be added between the pleated ribbon tiers of any of our Standard or Premium rosettes.
As a guide the price for one tier of five star points or double leaves is 40p.
Check out our gallery for further examples.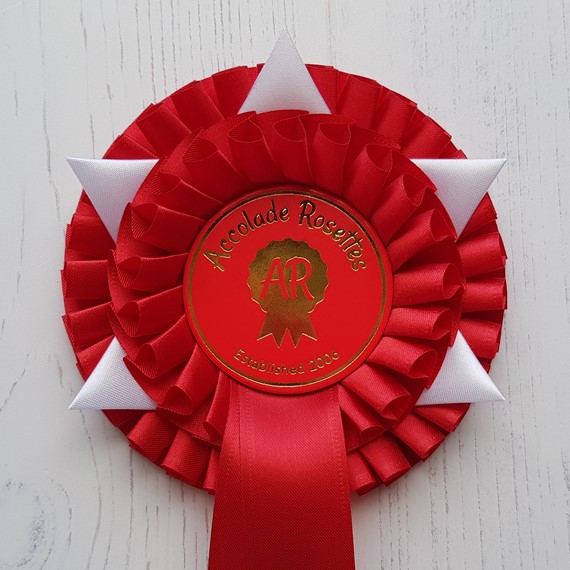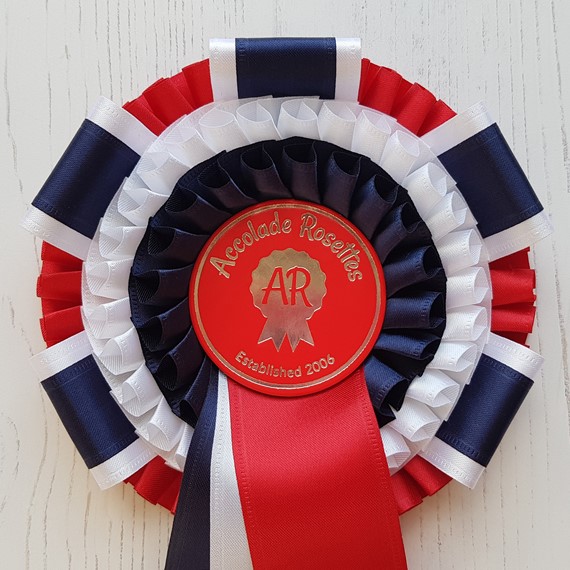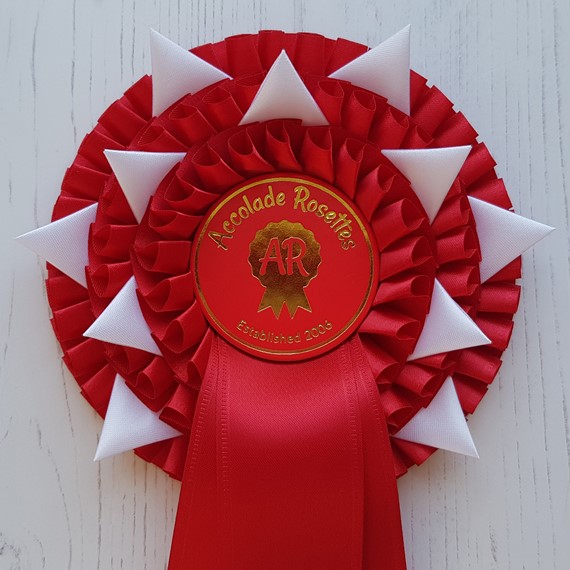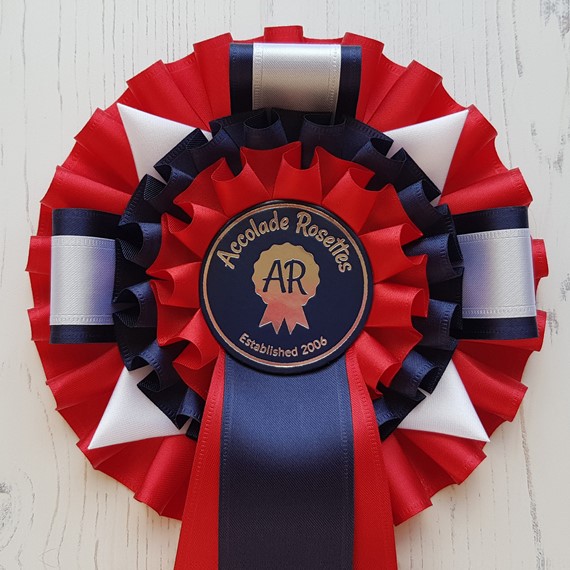 Alternative Centres
If you'd like to make your rosettes a bit different you can choose to replace the standard centre disk with either a ribbon "rose" or a medal.
Since there would then be no centre on which to print any information you may decide to print some text on one or more of the tails, please visit see our Tail Printing section above for more information.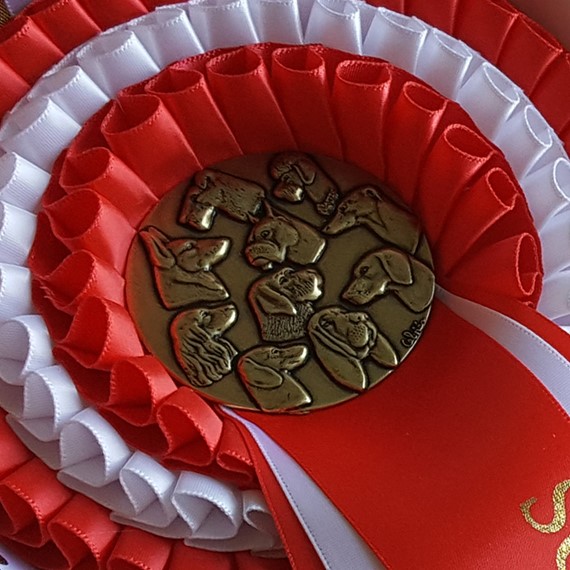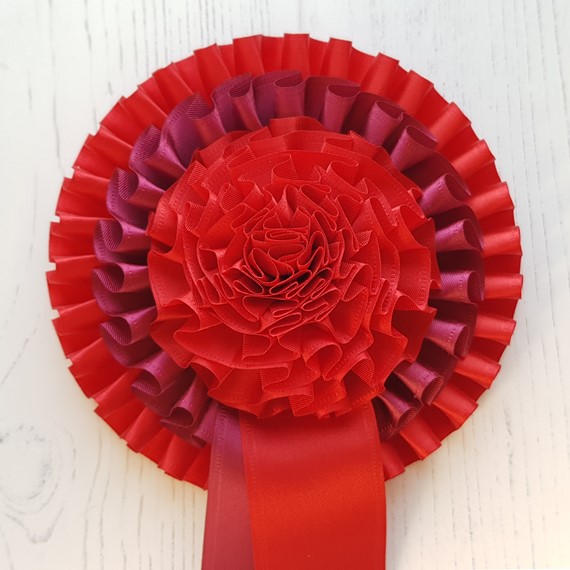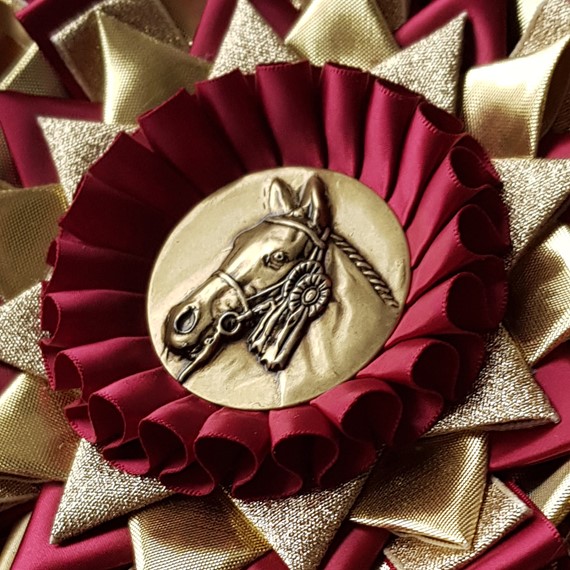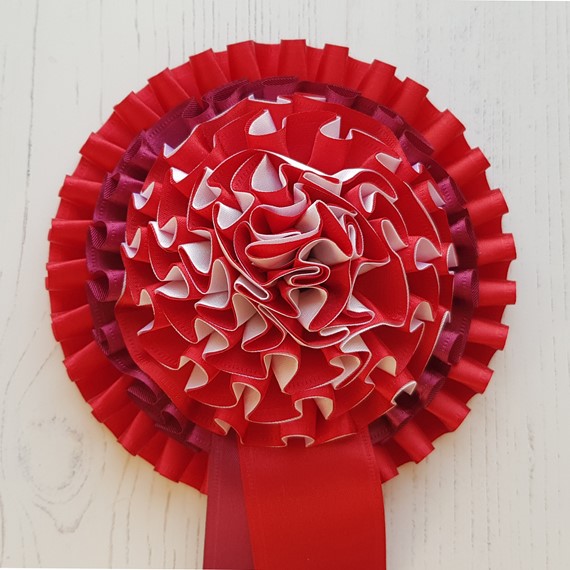 Longer Tails
If you'd like to add to the standard tail length of any of our rosettes you can do so in 5cm increments.
The price is dependent on how many tails the rosette has and is shown on each of our rosette pages in the Enhancements tab or you can contact us.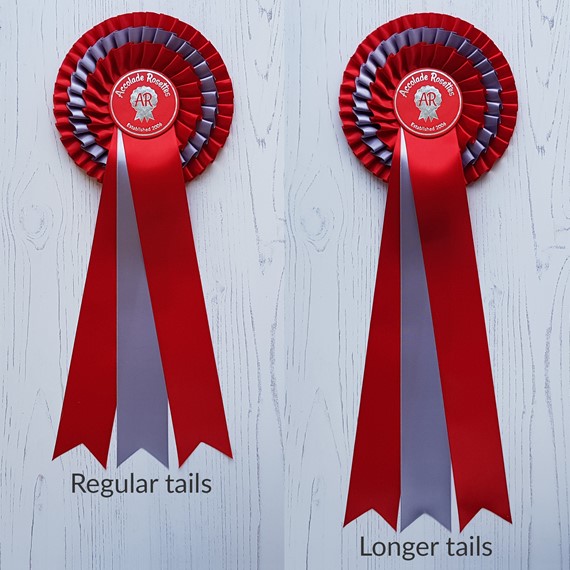 Extra Tails
One or two tails can be added to the standard number of tails a rosette has.
The price is dependent on the width and length of the tails and is shown in the Enhancements tab on each of our rosette pages or you can contact us.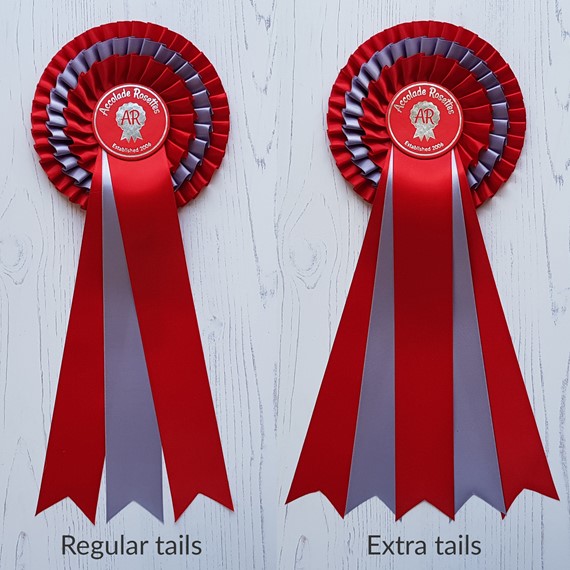 Personal Printing Plate
Our metallic foil centres are printed using the traditional hot foil technique; this involves heating a metal die that holds type and/or etched metal images, the heat bonds the foil to the centres and thus transfers the design held by the die.
If you'd like to have your rosette centres printed in a different format to our standard template or if you'd like to have your own logo printed then a new metal plate will be required.
Plates for the incorporation of your own logo, motif or a specific font cost from £18.00.
What does this price cover?
Since your image cannot be transferred to a printing plate on site the fee pays for it to be sent away to a specialist company so that a re-useable metal die can be made. For this reason we request a minimum period of 14 days after the approval of artwork for the production of items incorporating the design.
This is a one-off fee – we can use the plate to print an infinite number of centres so therefore if you wish to incorporate the same artwork into future orders there is no extra to pay.
Accolade Rosettes will retain this plate; however we do not use it under any circumstances to print items other than those for you or your organisation.
The price stated above is the price for a plate used to print rosette centre boards; complex plates may cost more.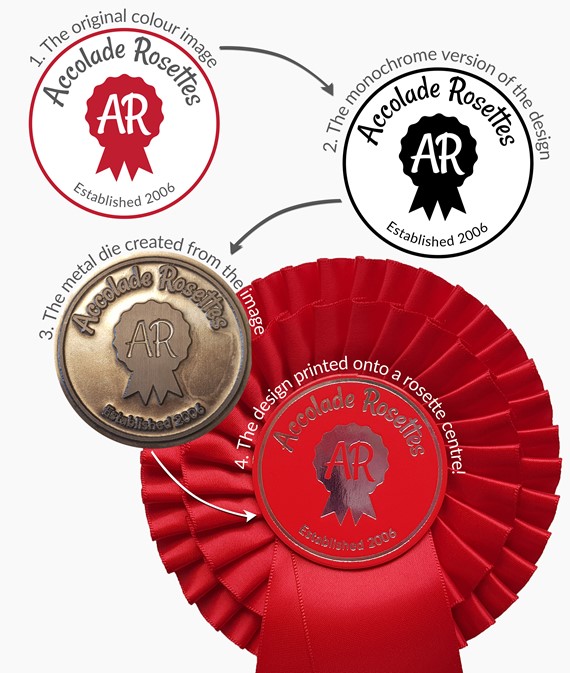 What do you need to do?
You need to supply us with a monochrome (black and white – no grey) image of your design. This is because it will be used to create a print and therefore midtones cannot be produced. If your design does include midtones or gradients and you are unsure how to modify it then we will do our best to simplify it for you.
Our preferred method for receiving these images is electronically by email.
You also need to tell us where on the product the design is to be used so that we know what size plate to request.
It is your responsibility to obtain copyright permission to use any designs/logos not belonging to you or your club or organisation, Accolade Rosettes accept no responsibility for breach of copyright.
Accolade Rosettes cannot accept responsibility for how effectively a design will print although we will tell you if we expect your design to be unsuitable.
As a rule clear, well defined images work best.