Welcome to the new Accolade Rosettes Website!

Welcome to our new website!!!
This project was always on the cards for 2020 and I'd originally planned to work on it alongside our regular workload but in hindsight I'm not sure how on earth I'd have managed it if 2020 had been a regular year! However, 2020 turned out to be, erm, rather unusual and we found ourselves with a much reduced workload which allowed me to throw myself into this project with a focus on the future (rather than the scary present!)
In today's world a business' website is so important especially for those like us that don't have a physical shop. I was acutely aware that our old website was in desperate need of work (a complete overhaul!) but I found myself limited by the features provided by the website builder I used; I wasn't sure on how to move forward until I got an offer I absolutely couldn't refuse from my wonderful web dev bestie Andy Neil of Network Interactions!
We've tried to make sure that everything you need to know about what, how and why you should order from us can be found easily and so how our new website is arranged is a little different from our last one so I thought it would be useful to highlight the main changes.
Rosettes
Rosettes, being our main product type, have to be centre stage and therefore needed to receive the most love from Andy and his skills…
New Organisation
When you arrive on our Rosettes page you now find links to our types of rosettes, Standard, Stock, Premium and Bespoke along with those to Rosette Enhancements and Special Offers.
Standard Rosettes are sorted further; previously we did this according to pleat style but now they're primarily arranged by the number of tiers as we find that people tend to ask, for example, for "single tier rosettes" or "three tier rosettes" rather than "box pleat rosettes". You still have the option to view rosettes by knife, box or ruffle pleat using the links that will then show pre-filtered results according to pleat. You also have the option to narrow your results further using the filters on the left hand side (or underneath if you're using a mobile) once you've chosen your starting point.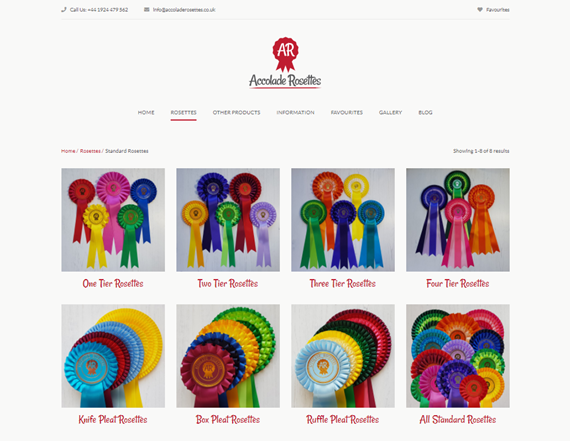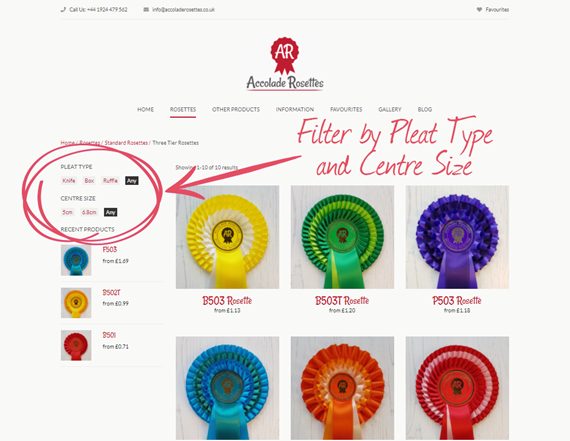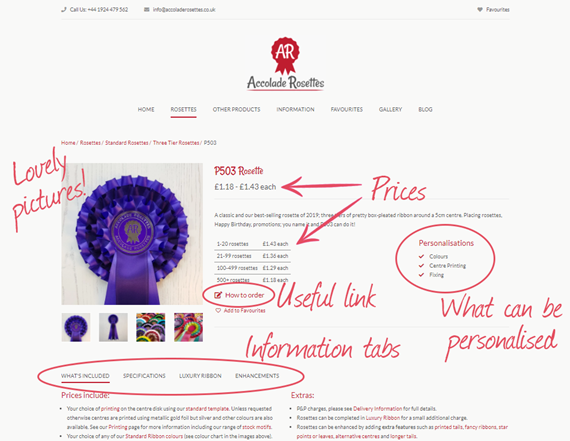 Possibly the best thing about this new website is that each of our rosette styles (and all of our other products) now have their very own page where you can find out everything you need to know about each item!
The prices are at the top to right of the (very much improved!) images (or beneath when viewing on a mobile) and there's a handy link that takes you to our How to Order page.
What's Included with this price is shown on the first tab underneath the pictures and prices . The next tab shows the Specifications of that rosette and if applicable there are two further tabs showing how much it is to have the rosette made from Luxury Ribbon or to enhance your rosette using various features  (these features are explained in full on our dedicated Rosette Enhancements page).
You can also see at a glance which features of the design can be personalised that are already included in the prices.
Other Products
Everything else i.e. Sashes, Lapel Badges and Competitor Numbers now live together in Other Products; all nice and separate from the 70+ types of rosettes we offer to ensure they don't get lost!
As mentioned above, each product now has it's own page which are arranged in much the same way as those of the rosettes with all prices and relevant information shown next to or beneath the images.
My Favourite = Favourites
The ability for you to select Favourites is definitely my favourite feature! I know that I find that little heart icon useful when I'm browsing products online to help me make my final decision and I hope you'll find it handy here too!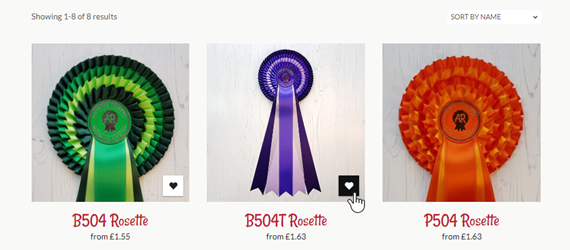 Colour Charts
The last thing I'll mention (for now) is that we finally have up-to-date Colour Charts showing all our available Centre Board and Standard, Luxury and Fancy ribbon colours!
Sadly some of our Standard Ribbon colours are no-longer manufactured (goodbye Nil Green, Cyclamen, Petunia and Peacock ) but more Luxury Ribbon colours are now available (hello Ocean, Olive, Pineapple, Scarlet and Paprika, to name a few ).  So our range of Luxury Ribbon now exceeds our range of Standard Ribbon colours!
Ok, that's enough from me for now...
...because as long as you're here you're not exploring all our other lovely new pages; our Gallery and Printing pages haven't had a mention but they're well worth a look!
I hope this has been helpful; I have plans for more useful blog posts to provide you with even more information than the website holds so far so do keep a look out.
Thanks for reading,